Hello Frank ,
I am working on connecting to SNMP4j agent with TLS connection, where I am able to successfully connect using Subject DN or by passing Agent certificate finger print in CertifiedTarget , but not able to connect using subjectAlternativeName
1. Subject Alternative Name: (NOK)
Certificate:


Code Snippet :


Error:


it fails as the fingerprint is returned as null in checkServerTrusted method of TlsTrustManager
fingerprint = ((CertifiedIdentity)tmStateReference.getTarget()).getServerFingerprint();
2. Subject DN (OK)
Certificate: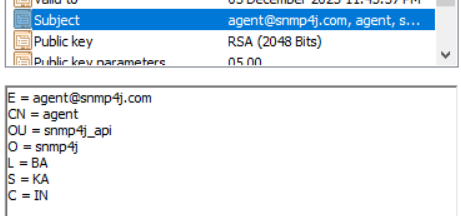 Code Snippet :


Can please provide your suggestion w.r.t connecting using the SubjectAlternativeName(SAN)?
Regards
Vikas,